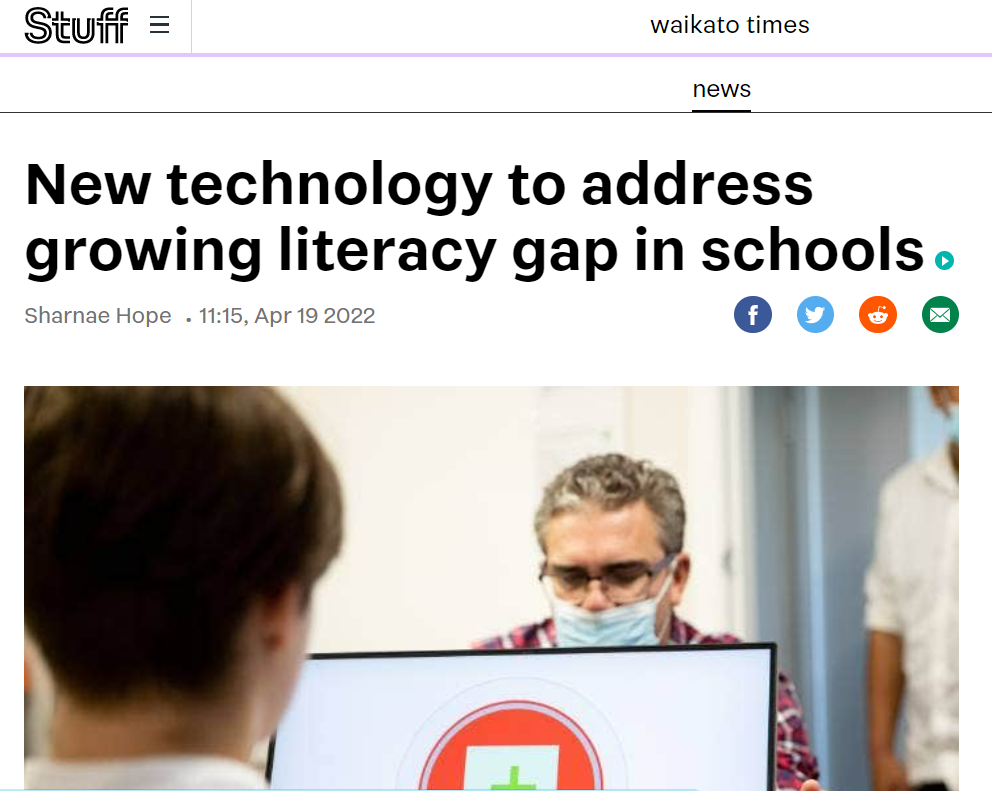 A new piece of software for schools aims to address a growing literacy gap by identifying students – particularly in low socio-economic areas – who may have dyslexia.
New Zealand literacy company WordSmart – alongside Sweden company Lexplore – have created a literacy package to assist students struggling to read by targeting the area in the brain that they have difficulty with.
It uses a mix of teaching techniques and technology that traces a student's eye movements and is being piloted in a number of schools including Ngāruawāhia High School.
Principal Chris Jarnet​ said it will have huge benefits to New Zealand schools that are under resourced to cater for the growing number of students with learning difficulties.
Dyslexia – one of the most common learning difficulties – has been officially recognised in New Zealand since 2007.
It's believed at least one in seven students have dyslexia in New Zealand according to the Ministry of Education, but there's no centralised data collection or standardised assessment or screening for it.
More parents since the Covid lockdowns have also reported learning difficulties such as dyslexia in their kids.
"They've got a real gift, but it's just misunderstood."
The technology – while not a replacement of a diagnosis – can
"Right now in order to get a diagnosis with dyslexia, and therefore access extra help at the school, kids must receive an educational psychology report which costs somewhere between $500 and $800," WordSmart founder Paul Blackman​ said.
"Even after they've got the diagnosis, most teachers aren't equipped with resources to support those kids."
As a former teacher at Hillcrest High School and various other schools, he said this causes huge equity problems in low socioeconomic areas.
"I've seen the damage it does to kids when they don't get the help. They become totally isolated. They think they're dumb, but in fact it's actually the reverse.
"They've got a real gift, but it's just misunderstood."
The technology – while not a replacement of a diagnosis – can identify a students' literacy issues in around four minutes.
It follows the eye movements of a student in milliseconds while they undertake a number of tasks tailored to their age level, including reading and recall.
It picks up letters and words the student struggles with to generate a report – that only a teacher or principal can see – showing the level of literacy and what support could be given in class to see them improve.
Nervousness is also taken into consideration – with the developers recommending the test be done more than once by a teacher they feel comfortable with if needed.
Of the decile-two school's 299 students, over half have some form of learning difficulty, he said.
While each school has learning support, teachers whose role is to cater for the neurodiversity of every student, it takes a lot of time and effort to support those struggling, he said.
"It's a huge issue for us," Jarnet said.
"A lot of the students come in still on level one (the reading age of a five or six-year-old) and we are getting them to at least level six (the reading age of a 10 or 11-year-old) by Year 11, but my staff are working their butts off to do that."
While other kids on the lower end of the spectrum may never get picked up, he said.
"We apply for funding all the time for those kids and without a whole lot of history it's very difficult to get them the support."
He said having technology such as the app in schools will save a lot of time and resourcing.
—–
https://www.stuff.co.nz/waikato-times/news/300554250/new-technology-to-address-growing-literacy-gap-in-schools